Mary's Meals – a simple solution to world hunger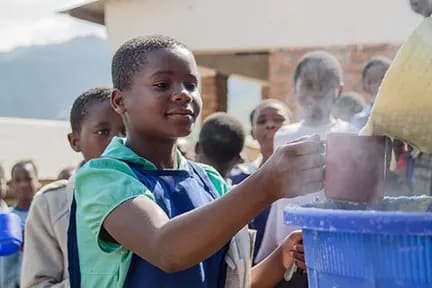 School + Food = Hope
Mary's Meals is a charity that runs school feeding programmes in some of the poorest communities in the world, where poverty and hunger prevent children from getting an education. Instead of going to school, they work in fields, beg on street corners or dig through rubbish to survive. A daily school meal is a strong incentive for these children to attend classes. Education can pave the way to a better future.
Mary's Meals was founded in 2002 by Scotsman Magnus MacFarlane-Barrow and currently feeds 2 million children in 20 countries on five continents.
The average cost of providing a child with food each school day is only 18.30 euros per school year.
We keep our running costs as low as possible to ensure that at least 93% of donations go directly to our charitable activities.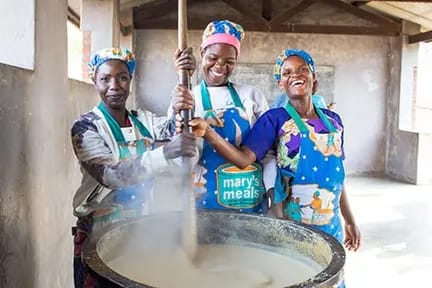 Nothing works without volunteers
Our work is based on great volunteer commitment - here and on site. In the project countries, volunteers take care of the organisation, cooking and serving of meals. In Malawi alone, our largest project country, where we reach over 30% of all primary school children, there are over 80,000 volunteers, mostly mothers and fathers of the children.
Only €18.30 feeds a child for an entire school year.
We are convinced that the children who receive Mary's Meals today will grow up healthy and educated, and will one day help their communities and village communities overcome poverty so that they will no longer need aid. We call the generation of these children "Generation Hope".
Let's Move for Meals, because 59 million children are still waiting for Mary's Meals!
Register now
A simple idea that works!
School feeding has a life-changing impact on children
Less hunger
Improved health, more energy, happier children
Increase in school enrolments
Better performances
Regular school attendance, more school-leaving qualifications
Offering a school meal motivates all children to attend school. 50% of the children are girls.
Helping people to help themselves - Sustainable impact
The communities in which Mary's Meals works own and operate the projects
The communities are involved in the projects from the beginning and can thus help change the future of their children
Education is increasingly recognised as important by parents, they get more involved in school activities
Wherever possible, the ingredients for the food are bought regionally from small farmers with a positive impact on the local economy
Frequently asked questions
Our vision is that every child receives a meal at school every day and that those who have more than they need share with those who lack even the basic necessities of life.
This vision connects people all over the world. In many countries in Europe, Australia and the USA, volunteers in particular help to make Mary's Meals better known and to collect donations.
Ethiopia, Benin, Ecuador, Haiti, India, Kenya, Lebanon, Liberia, Madagascar, Malawi, Myanmar, Niger, Romania, Zambia, South Sudan, Syria, Thailand and Uganda.
Our school feeding programmes are closely monitored by our school feeding officers and our partner organisations, providing the vital link between Mary's Meals and the communities we support. These field officers are well trained in our values and know how to support reliable and effective school feeding programmes, enabling them the make sure that schools and communities have the knowledge, skills, equipment and support they need to ensure a daily meal in the place of education.
On the life-changing impact of school feeding on children cited above: Mary's Meals is collecting long-term analysis in Malawi, Zambia and Liberia on the impact of school feeding on the lives of vulnerable children and their communities. The findings, verified by INTRAC, an external research organisation, are based on interviews with children, teachers, parents, guardians and volunteers over several years. They compare studies at schools with Mary's Meals with schools where meals are not yet provided.
Mary's Meals is committed to good stewardship of the environments we operate in. We have a responsibility to minimise the environmental impact of all our activities and we are working towards the environmental sustainability of our work through continuous review of global practices. Mary's Meals encourages the use of stoves that burn fuel as efficiently as possible. School Feeding Committees endeavour to use the minimum amount of fuel as efficiently as possible to prepare the school meal to the required quality. Mary's Meals also supports schools and communities by training community volunteers to minimise and mitigate the environmental impact of the school feeding programme. This extends to woodlot management, briquette making, and best practices for fuel use, cooking, storage, and management. As always, we are driven by our promise to support all children in our school feeding programmes. We recognise that part of this is protecting the current environment the children live in, while also working to ensure a future environment in which these children can thrive.
In the countries and regions where Mary's Meals is active, additional targeted appeals for donations are launched in the event of sudden disasters (drought, floods, earthquakes, etc.) and special solutions are developed.
During the Covid-19 pandemic, schools were closed in all project countries. The local staff quickly found safe ways to continue providing food for the children.
The work of Mary's Meals is based on donations. Through our self-commitment to keep all costs as low as possible, at least 93% of all donations flow directly into the projects.
Mary's Meals Deutschland e. V. was founded in 2004, is a registered association (Amtsgericht Mainz, VR 40583) and recognised as a charitable body. For donation receipts, please state your exact address. For donations up to 200€, please submit your bank statement.